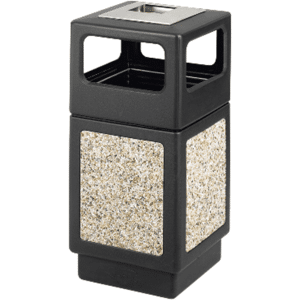 Safco Plastic/Stone Aggregate Receptacle, 38 Gallons, 39" x 18 1/4" x 18 1/4", Black
$428.42
- $537.08
(inc P&P)
Features and technical details
High-density polyethylene with built-in UV inhibitors for years of service Striking molded-in stone aggregate panels add beauty and serviceability. Patented Grab Bag system holds liner bags in place and out of sight. Uses standard 32 x 44 trash bags (sold separately). Adaptable for anchoring or weighting devices. Designed for outdoor use. Less harsh chemicals - made with fewer harsh chemicals, or safer chemicals than typical alternatives, helping reduce your use of and exposure to substances that may be more harmful to your health and the environment.
3 of 3 results from 3 retailers
SAFCO 9473NC Canmeleon Ash/Trash Receptacle, Square, Aggregate/Polyethylene, 38 gal, Black
Offer updated on : 9/24/2021
Usually ships same or next business day. Major credit cards and PayPal options.
Offer details
Similar products might interest you