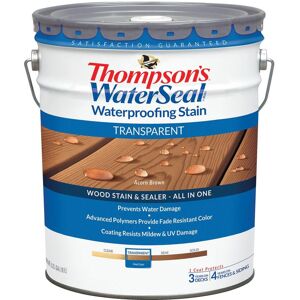 Thompson's WaterSeal Transparent Acorn Brown Waterproofing Wood Stain and Sealer 5 gal.
Features and technical details
Thompson's WaterSeal Waterproofing Stain provides complete outdoor wood protection. It waterproofs long after the initial water beading is gone. One coat protects; 3 years on decks, 4 years on decks & fences. For use on decks and fences, outdoor furniture and exterior wood.
Similar products might interest you