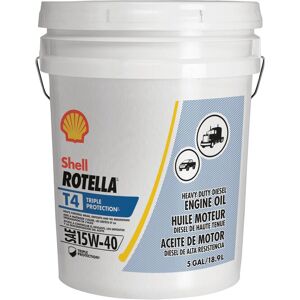 Shell Rotella 15W-40 Diesel Heavy Duty Engine Oil 5 gal.
$89.99
- $99.30
(inc P&P)
Features and technical details
Shell Rotella T4 triple protection oils provide triple action to help control wear, deposits and emissions to continuously adapt to the needs of your engine for protection in on- and off- highway applications. It meets or exceeds API CJ-4 requirements and is designed to provide extra performance. Shell Rotella triple protection performs well in both older and new engines.
2 of 2 results from 2 retailers
Similar products might interest you